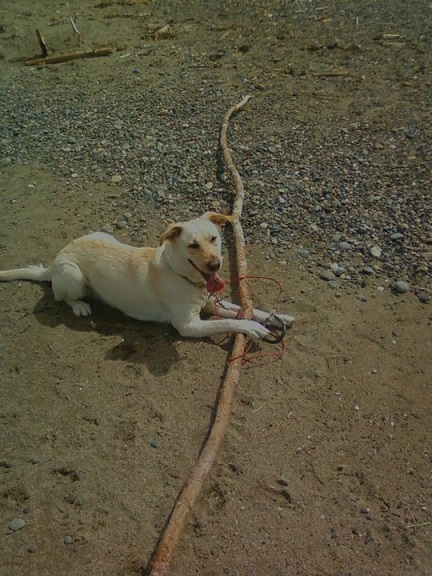 I didn't want another dog, not really. My son had gotten a new puppy and I had jokingly said, awe.... I want a puppy. Three days later my son showed up with this tiny, mange mite infested, emaciated 8 week old puppy and asked me if I could give it a home. He said he had persuaded the people who owned her to surrender her to him. She spent her short life so far locked in a cage outside and was often forgotten about.

The first day I gave her a bath, I noticed she was completely white and as she warmed up to us I could see she was extremely sweet. I immediately knew her name was Sugar. It fit her color and her personality. Little did I know she was all white because the poor baby didn't have any fur, her mange mites were so bad it took 3 months of medicine for her fur to grow back in. The first time I fed her that night, her little tummy wasn't used to food so she couldn't hold it down. It was a full week before she could eat without throwing up.

The first night, I picked her up and put her on our bed. I didn't want her to be alone, she had been alone long enough.

6 Years later and she is still the love of my life, she is also pretty sure she is the queen of the house. I could not imagine my life without her. I might have thought I didn't want another dog. But she knew I did, she knew I wanted her. She taught me keeping an open heart leads to wonderful surprises.
Tara
Forks, WA