No More Animal Cruelty At Circuses
45,586 signatures toward our 65,000 Goal
Sponsor: The Animal Rescue Site
Tell the Russian government to implement federal anti animal cruelty laws that protect all animals!
---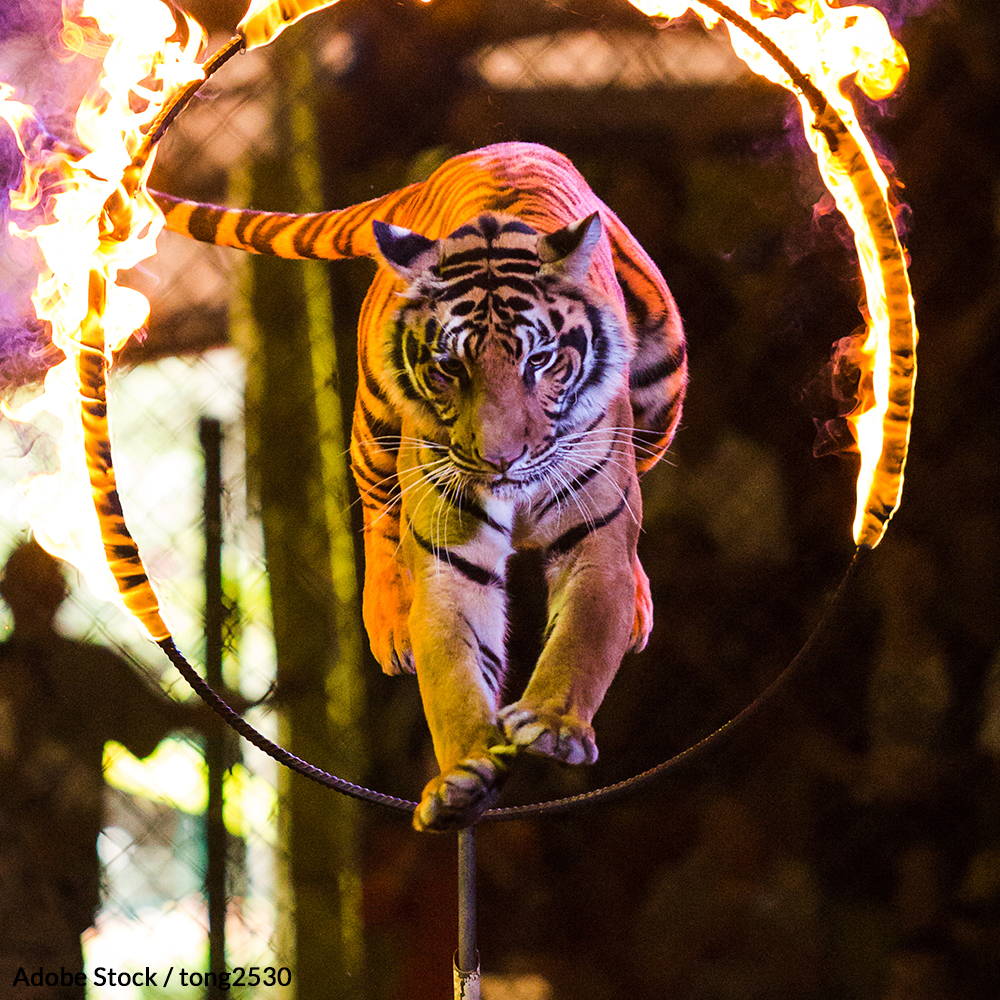 In Moscow, the Zapashny Brothers' Circus is one of the main attractions. Close to 20,000 people per week come to the circus to delight in human acrobatics, tricks, and amazing animal feats. To an outsider, it may seem like the happiest place on earth.
For the animals, however, it is not so. Animals that otherwise belong in the wild — like elephants, tigers, and lions — are captured, kept in sub-par living conditions, and then forced with whips to perform stunts every night. They are then led back to their cages where they have minimal room to stretch or move around.
Circuses are unnatural environments for animals and forcing them to live and travel with these shows puts them under enormous stress1.
In a recent performance, a young lion named David was attacked by a tiger named Dieter, who knocked David to the ground and grabbed him by the throat. The incident horrified spectators and was caught on camera2. One of the ringmasters started throwing various objects at the two massive big cats, trying to break up the fight. The young lion was frightened and fought back in fear just to survive3.
In another circus in the northern republic of Karelia, a bear became enraged and—mauled—its handler seconds after being forced to push a wheelbarrow across the ring.4.
The Law on Responsible Treatment of Animals5, signed by Vladimir Putin in 2018, prohibits the killing of animals "under any pretext." The law also outlaws shooting or poisoning stray dogs and cats. Under the law, animal owners must provide proper shelter and food for their pets, while homeless animals must be caught, vaccinated, sterilized, and then released by local agencies. The law also bans any sort of animal fighting, petting zoos at malls and the practice of bars and restaurants hosting animals, but it falls far short of what is needed because it doesn't specifically ban beating circus animals to train them and is vague on minimum cage sizes2.
Magas, a region in Russia's North Caucasus, in 2019 was the first to ban the use of animals in traveling circuses after its mayor, Beslan Tsechoyev, examined living conditions at these operations2.
"Wild animals should be in their natural habitat, that's what shows their beauty," Tsechoyev said.
It's time Russia's government takes Magas' lead and makes this a federal mandate. Sign the petition below and demand that the Russian government enact federal anti-animal cruelty regulations so performing animals don't suffer further complications due to inadequate living arrangements.
To Top
The Petition:
Dear Minister of Culture:
As a dedicated animal advocate, I am deeply concerned about the welfare of performing animals in Russia. Circuses are popular attractions in your country, and that's why it's so important that you enact federal laws that prohibit animal cruelty of any kind.
The Zapashny Brothers' Circus is just one example of the inhumanity some performing animals are experiencing. The handlers use whips and sticks to force the animals into action, and when the show's over the animals return to small cages where they have little room to move. It's a traumatizing environment for otherwise wild animals, such as elephants, lions, and tigers.
The Law on Responsible Treatment of Animals has given pets well-needed protection from abuse and needless suffering, but falls far short in protecting circus animals because it doesn't specifically ban abuse as a form of training and is vague on minimum cage sizes.
Please work to develop more strenuous animal welfare regulations to provide your performing animals with basic, livable standards while in captivity. Update the Law on Responsible Treatment of Animals to protect all animals, including those forced to perform in circuses!
Sincerely,