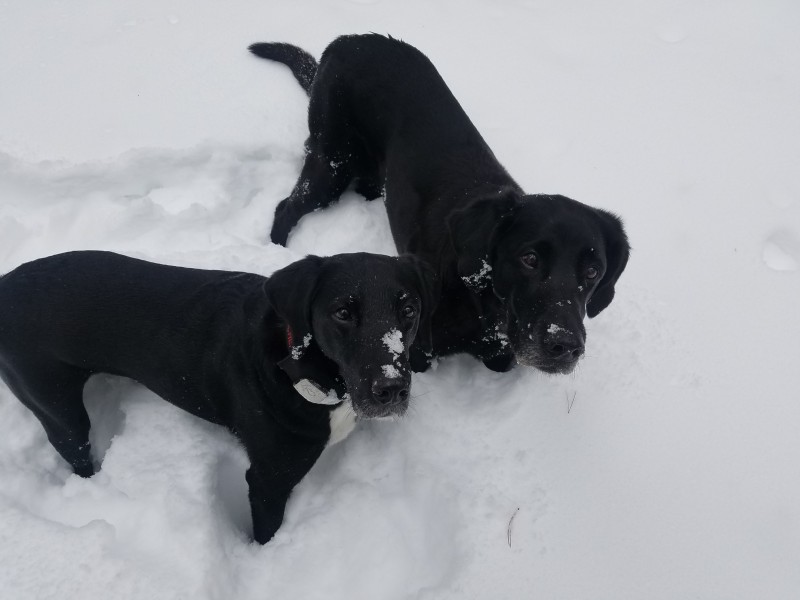 I had been looking for a rescue after we had to send our Baylee to the Rainbow Bridge. I was having coffee with a friend, and she asked me how the search was going. I said it had been unsuccessful. A woman at the table next to us overheard our conversation and told me about a wonderful rescue a couple of hours away. When I got home, I immediately checked their website, and their "Rescue of the Day" was a black Lab/ pit mix named Reacher. When I read his story, it broke my heart, and I knew I had to have him.

He had been chained out in the cold for two years, was covered with scars from being beaten, and had been starved almost to death. (The vet who cared for him when he was taken from his owner named him Reacher after the Jack Reacher character in Lee Child's books, a true survivor.) I filled out the adoption form and we went to get him. The shelter told me he was a "terrified shell of a dog" when he arrived there, but he sat close to me all the way home, and gave me lots of kisses.

Our car was full of dog hair because he was so frightened and she'd like crazy, but he adjusted quickly to our home and all the love and attention we lavished on him. As I take my dogs to the mountain every day to let them run, I had to teach Reacher off leash behavior. It took a few weeks because he LOVED the freedom that he had never experienced, but he learned to come back, just not WHEN. Sometimes he would be MIA for an hour or so but always seemed to know where we were, and he showed up when we got close to the car…often with a huge bone in his mouth. It was his trophy!

He had collapsed cartilage from being chained and suffered grand mal seizures once a month, probably from being hit in the head, but he was the most loving, happy boy after his horrible beginning in life. He loved everyone, and we adored him.

Sadly, we only had seven years with him as he had liver cancer and we had to let him go. But we were so thankful for the years we had and the life we were able to give him. He was truly meant to be ours, as had I not gone to coffee with my friend, and the woman at the table next to us told me about that shelter, I would not have found him.