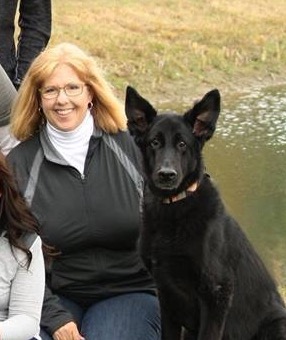 On April 29, 2006 I saw you. You were in a cage in a puppy wagon at an adoption event. We stopped into PetSmart for a couple of things and humane society had their truck set up. It was a beautiful day and there were lots of families looking for puppies and dogs to adopt. Almost all of the other dogs were out of their cages playing with different families but you were still in your cage, out of the way, ignored.
I'm not sure why no one looked at you. It could have been because you were a black dog. I looked up at you and stopped. I called your dad to come take a look at you and he said to hurry up. I never petted you. I just saw you there, in your cage, with your name written in white tape: Bailey.
On Tuesday, May 2nd I reported for work as usual and still I thought of you.
By Wednesday afternoon I could stand it no longer. I picked up the phone and called the local humane society to find out if you were still there. .I told them not to let you go and I would be right there to pick you up. You were home with my family by that evening.
You had a rough start to life.. I know because I called the shelter there to see if I could learn something more about you. Once you finally reached my home you only knew shelter life, concrete floors and cages. It took a while to teach you that grass is your friend and it's OK to walk on it.
And we spent the summer together. I taught you many things. How to pee in the grass. How to play. You were always gentle and careful with everyone you met.
On December 19, 2015 I made the decision to end your suffering. . We spent 9 wonderful years together. I know I was the one who went to the rescue place and brought you home but I just wanted you to know, you rescued me.