Florida: Alligator Wrestling Is Not A Sport
Final signature count: 27,952
Sponsor: The Animal Rescue Site
Tell Florida to stop allowing alligator wrestling to remain a viable tourist attraction.
---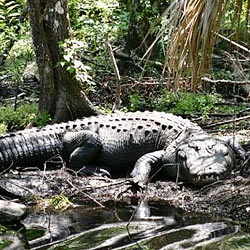 Claiming an activity that harms an animal is 'tradition' is a clever scapegoat in the cruel world of alligator wrestling. In Florida, native Indian tribes have been practicing the sport for centuries; but now, alligator wrestling has become a tourist attraction in the sunshine state.
At these wrestling shows, handlers drag alligators from the water and force them into positions whereby they can become extremely agitated or lose consciousness. Alligators are wild and dangerous animals, and this sport serves nothing more than to satiate the appetites of adrenaline junkies — hardly a reason to allow this unjust cruelty to continue.
Write to Florida Governor Rick Scott and Senate President Don Gaetz asking them to stop overlooking the well-being of Florida's alligators and make alligator wrestling a thing of the past.
To Top
The Petition:
Dear Governor Rick Scott and Senate President Don Gaetz:
Though it began as a Native American tradition, alligator wrestling in the state of Florida has become a deplorable, adrenaline-fueled tourist attraction.
Wrestling matches involve alligators being lured from their habitat and onto land where handlers force them into positions whereby they become extremely agitated and even lose consciousness. Wrestlers utilize different kinds of "holds," all which aim to overpower and incapacitate the animal.
Harming a living creature should never be a form of entertainment. Alligators are a state icon and they deserve to be respected, not injured and taken advantage of as pawns in a tourist attraction. What's more, protecting Florida's precious and unique wildlife has always been a priority for the Florida State Legislature. Why are alligators being neglected?
It's time to end this cruel and inhumane sport. I urge you to extend the same concern for alligators as you do for manatees and sea turtles by outlawing alligator wrestling once and for all.
Thank you.