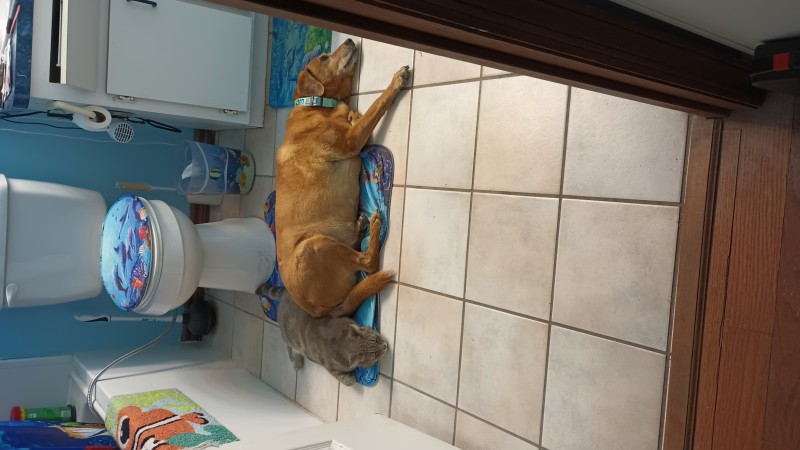 Came home from work one night & heard a tiny "meaow". It came from behind the trash can on the curb. Didn't look right away for fear of spooking the cat, but ran into my house and opened a can of tuna. Then I went back & put it down on the sidewalk & backed off, knowing how afraid street cats are of people.

A small gray kitten practically threw itself at the food & devoured it. I filled the empty can with water from the faucet in my front yard, left it by the sidewalk and went to bed. Next night when I got home, it came running from behind the trash can which I had put away in the yard, rubbed against my legs, (shoes, actually, it was very small) then sat and looked at me expectantly.

Repeat of last night's performance. I explained to it that I was going to buy some cat food tomorrow but, having three rescue dogs, it wasn't safe inside the house, though the dogs were restricted to the Florida room, from which they had a swinging door that let them out to the fenced back yard only. Big dogs not used to cats.

But she could live in the front yard, which was also fenced. I put a box with a blanket on the front porch and went to bed. Next day was my day off. That night, I went & bought a bag of cat food and a small bowl, though I didn't see the kitten when I went outside. But it was there when I came home, so I placed a bowl of cat food in the yard away from the front door to avoid attracting bugs, waited until it started eating, opened the door to go back inside. A little gray lightning bolt shot past me, sat in the middle of my living room floor, & said "I live here".

I panicked because I'd actually left one of the dogs inside & she came strolling out of the bedroom. I grabbed her collar but realized she was just curious & so was the kitten. They touched noses, I let the dog go, then both followed me when I went out to collect the leftover cat food. The dog used the grass & so did the kitten. We all three went back inside.

Next day, I took her to the vet for vaccines. He pronounced it female & healthy. Had her vaccinated & later spayed. That was over 11 years ago. Her name is Lily, she is convinced she's a dog, became one of the pack, & lets herself in & out the dog door. I feed her separately but have seen her actually nibbling at the dog food. Go figure.