Don't Let Compound 1080 Harm Your Pet!
Final signature count: 32,033
Sponsor: The Animal Rescue Site
A deadly predator control substance is unnecessarily harming our domesticated pets. Take action!
---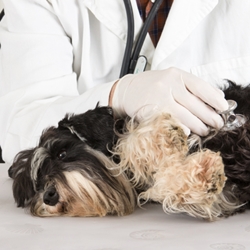 Compound 1080 is a chemical substance that is used to protect livestock and other farm-raised animals from predators like coyotes and foxes. Compound 1080, along with sodium cyanide, is deadly; in fact, one teaspoon of it can kill up to 100 people. It's particularly dangerous because it's both odorless and colorless.
The problem with using Compound 1080 for livestock predator control is that it is very harmful for domesticated and endangered animals as well. Pets have been known to discover the chemical, ingest it, and then become very sick and/or die. Because of the nature of the substance, there are few ways to identify it before it's accidentally found by the wrong animal or person.
Sign the petition asking Congressman John Campbell III to reintroduce H.R. 4214—legislation that would prohibit the use of Compound 1080 as predator control.
To Top
The Petition:
Dear Congressman Campbell,
I am writing to express my concern over the use of Compound 1080, the substance used to protect livestock from wild predators. While the deadly chemical may in fact be useful for this purpose, it has claimed the lives of many endangered species as well as domesticated pets. Domesticated animals who roam pastures or fields are likely to ingest this odorless and colorless substance inadvertently, and it is almost always deadly for whoever or whatever comes in contact with it.
I realize the need for population control, but the use of this harmful chemical is causing unnecessary suffering and death in animals for which it was not intended. It's absurd to protect the life of one animal at the expense of another.
As you know, we need to find better ways to keep our farm animals safe. I was delighted to learn of your support of H.R. 4214, and I urge you to continue fighting for legislation that would ensure Compound 1080 is no longer used for predator control. We need to think of the bigger picture and ensure that no creature experiences needless pain or suffering.
Thank you for considering my comments.