Take Action Home >
Tell Sun Pet Ltd.: No More Hamster Killing!
Final signature count: 33,004
Sponsor: The Animal Rescue Site
A pet store in Atlanta has been torturing and killing small animals. Take action!
---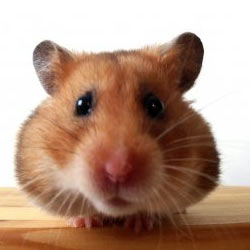 Sun Pet Ltd., a pet supply store in Atlanta, is torturing and killing hundreds of innocent animals that aren't able to be sold. Recently revealed footage shows Sun Pet Ltd. employees putting hamsters into a bag and bashing the bag against a table until the poor animals die. There are also cases in which Sun Pet Ltd. starve their animals and leave them without water.
This is by far one of the worst possible cases of animal cruelty in recent history, as the acts taken by the company's employees are clearly deliberate and calculated. Sign the petition below asking Fulton County District Attorney Paul Howard Jr. to crack down on Sun Pet Ltd.'s heinous practices, and punish them for their blatant disregard of precious animal life.
To Top
The Petition:
Dear District Attorney Paul Howard,
I was absolutely outraged to learn of the horrifying events that have been taking place at Sun Pet Ltd. It has been revealed that the company is mistreating the animals that cannot be sold in attempts to get rid of them. For example, Sun Pet Ltd. keeps small rodents in crammed, overpopulated cages, forcing them to eat, sleep, and reproduce in their own filth. Some employees have even been caught violently torturing these animals by means of bashing them against hard surfaces. Sun Pet Ltd. has also been known to poison and gas their animals.
This kind of treatment is punishable by law, and I don't understand why Sun Pet Ltd. is still allowed to operate as normal. We cannot sit back while poor, defenseless animals are harmed and killed by these horrible people.
Please use your power as district attorney to take action against these abhorrent acts. We need to make sure Sun Pet Ltd. is punished for its terrible behavior and ensure we set the precedent for pet stores to treat their animals with the ultimate of care.
Thank you for your time.