Miami Seaquarium: Release Lolita!
Final signature count: 31,478
Sponsor: The Animal Rescue Site
Tell Miami Seaquarium to release Lolita the killer whale from the abhorrent conditions in which they keep her.Take action!
---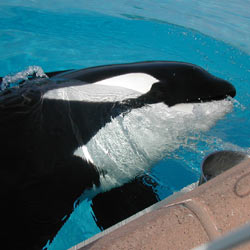 Lolita, a killer whale that was captured from the wild back in 1970, now resides at the Miami Seaquarium where she is being forced to live out her life as a performer whale. Lolita's home is a small, circular pool that hardly resembles anything like her natural habitat. Here, Lolita lives in solitude, never having any contact with other whales or sea creatures. Her life consists of entertaining humans and swimming around her lonely pool.
This is no way for a living creature to exist. The Miami Seaquarium needs to take responsibility for the poor manner in which they have cared for Lolita. Lolita deserves to live out the rest of her life in a state-of-the-art facility with companions, not alone in a decrepit pool. Sign the petition urging the Miami Seaquarium to restore Lolita's tank and at last make her living conditions humane.
To Top
The Petition:
Dear Miami Seaquarium director,
I'm horrified to hear of the conditions in which Lolita the whale (and other sea creatures at your facility) is living at the Miami Seaquarium. Lolita was cruelly captured from her natural habitat back in 1970, and has lived a solitary, miserable life ever since. Taken from her pod of companions, Lolita was transferred to the Miami Seaquarium where she now lives in a 20-foot-deep and 35-foot-wide concrete pool. She can't even stand upright on her tail without her whole head peaking out of the water. It's absolute insanity to think this is an acceptable way to treat a living creature.
All animals, and especially sea creatures, thrive in environments where they are able to communicate with other animals and move around freely. Keeping Lolita by herself in the tiny tank is just the opposite of that. If you're going to keep marine animals in your facility, you need to learn the right ways to care for them. The rusty, dilapidated tanks that collect trash and garbage just aren't cutting it.
It's Lolita's right to live the rest of her life in a facility that resembles her natural surroundings as closely as possible. You can make up for the years of pain and suffering you have caused Lolita by restoring her pool, allowing her contact with other marine life, and treating her with the respect she deserves. Please do the right thing for this majestic creature.
Thanks for your time.