Skechers: Stop Supporting Animal Cruelty!
Final signature count: 38,858
Sponsor: The Animal Rescue Site
Tell Skechers to wake up and realize its advertising is promoting serious animal cruelty- and to stop now!
---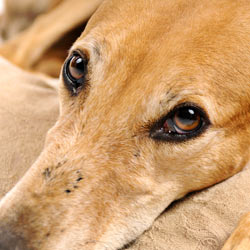 Greyhounds are being exploited as part of a new ad campaign that's scheduled to begin during the Super Bowl.
The multi-billion dollar shoe company Skechers recently filmed its television ad at a greyhound racing track. The advertisement features the dogs in racing jackets, racing against a smaller dog who is wearing Skechers shoes.
Airing this promotion would be bad enough any time — but airing it during the Super Bowl not only promises hundreds of millions of people will witness a form of animal cruelty that is being touted as a sport, but it also demonstrates gross ignorance on the part of Skechers.
Skechers needs to realize it is only promoting animal cruelty by supporting a sport in which innocent dogs die all the time for no reason.
Sign the petition imploring Skechers to act responsibly and pull this ad from the Super Bowl lineup — and from television altogether.
To Top
The Petition:
Dear Skechers CEO Robert Greenberg:
If your company, Skechers, is interested in doing the right thing, you will apologize for promoting animal cruelty with an ad during the Super Bowl lineup.
Your ad featuring greyhound dogs racing a smaller dog wearing Skechers shoes completely misses the point. Do you know the kinds of lives racing greyhounds lead? They're fed grade D meat, kept in small enclosures, forced to race until their bodies give out, and then they are killed. The greyhound racing industry is a terrible place for a dog to end up.
Yet you supported this "sport" by broadcasting it across America during the most watched event of the year. I realize your interest lies with your own company's success — but you shouldn't promote animal cruelty to get it.
Please apologize for your ad letting the public know you do not condone animal cruelty.