Take Action Home >
Act Now - Wild Tigers are Facing Extinction!
Final signature count: 38,429
Sponsor: The Animal Rescue Site
Loopholes in current regulations are fueling the illegal tiger trade and contributing to tiger extinction. Take action!
---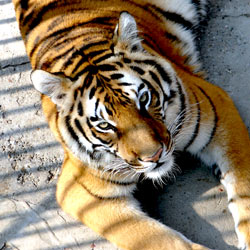 The world's wild tiger population has been diminishing for several years. Tigers are so endangered now that they face the possibility of extinction as early as the year 2020. So it's appalling to find out that the illegal tiger trade is still operating as strong as ever. Because of loopholes in current legislation, captive tiger owners aren't required to obtain certain permits or meet specific standards. There is no reporting system for keeping tabs on these owners' activities, which means the tigers aren't protected from abuse and poaching.
These majestic animals need protections if they are to continue to reproduce and replenish their populations. We need to close the current loopholes and require that captive tiger owners follow very specific and rigorous regulations. Sign the petition asking Secretary of the Interior Sally Jewell to work toward closing the loopholes and saving one of the world's most beautiful creatures.
To Top
The Petition:
Dear Secretary Sally Jewell,
As a concerned animal advocate I am writing to express my thoughts about the world's tiger population. Right now, there are as few as about 3,000 tigers living in the wild. This is the lowest number ever reported, and if the population continues depleting at the rate it is now, wild tigers could be completely extinct within 15 years or less.
Part of the problem is that wild tiger owners in the US aren't required to meet certain standards that would protect tigers from abuse, poaching, and consequently, extinction. Tigers and tiger products are traded on the black market, which, in turn, only perpetuates the species' plight.
Certain subspecies of tigers are already completely extinct. We must take action now.
Please use your legislative authority to see that regulations for owning captive tigers are implemented as soon as possible. As long as the loopholes remain, owners will continue to disregard the safety and well being of the tigers for their own benefit. We must act on behalf of the tigers and create stronger regulations for their protection.
Thank you for your time.