Take Action Home >
No Punishment for Wolf Poaching?
Final signature count: 24,825
Sponsor: The Animal Rescue Site
Ask the Fish and Wildlife Service to look into the case of a family who illegally poached an endangered pack of wolves.
---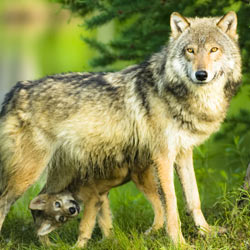 High up nestled in the Cascades of the Pacific Northwest lies a scenic and remote place called the Methow Valley. And in the Methow Valley lives an elusive pack of wolves called the Lookout Pack.
The Lookout Pack disappeared from the Methow Valley 70 years ago and was rediscovered there in just 2008. In fact it was the first documented wolf pack in Washington in decades. But a Methow-area family is credited with the possible decimation of this particular species for simple profit gain.
Tom White killed two of the pack's wolves, and his wife and father assisted in shipping their pelts to a hunting buddy. A FedEx employee discovered a bloody package and found the pelt inside. The package was traced back to the Whites.
The Whites stand to leave sentencing with nothing more than probation and some fines. Urge the United States Fish and Wildlife Service to consider the gravity of this crime and to punish the Whites appropriately.
To Top
The Petition:
Dear Daniel M. Ashe, Director of the U.S. Fish and Wildlife Service:
I strongly oppose a recent plea agreement made by the White family and a U.S. attorney that dictates the family won't fully pay for its actions.
A pack of wolves in Methow Valley, Washington called the Lookout Pack recently resurfaced after vanishing from the area over 70 years ago. The recent sightings suggested the endangered gray wolf pack was procreating and on its way to recovery. But federal workers soon found evidence that a few of these wolves had been brutally killed and their pelts mailed via FedEx.
Tom White and his wife Erin were found responsible for the killings and the mailings, but it now looks like these criminals could end up only paying a fine and shirking all jail time. This prospect not only sends the message to the Whites that their crime was much less offensive as well as that other poachers might be able to get away with similar actions.
We can't allow illegal poaching to skirt the true purpose of the law. If we allow the Whites reduced punishments we set the precedent for future illegal hunting.
Please use your power as our federal fish and wildlife agency to see that these criminals are punished appropriately.