Donkeys Shouldn't Have To Die For This 'Medicine'
48,191 signatures toward our 75,000 Goal
Sponsor: The Animal Rescue Site
Help us convince China to enact stronger animal welfare laws, and stop the donkey slaughter!
---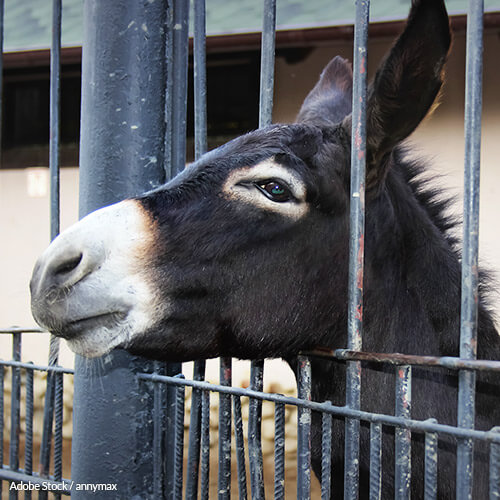 Sign this petition to tell the Chinese government to ban the slaughter and export of donkeys for their skins.
In 2016 alone, the world lost an estimated 8 percent of its donkeys. Many were stolen, some were skinned alive, and all were part of a black market trade that fuels the Asian ejiao industry [1].
China saw its own donkey population drop from 11 million in 1990 to around 6 million in 2014 [2]. Now that the demand for donkey meat and ejiao, a medicine believed to improve circulation and ease a number of other health issues, has increased, external sources of donkey products are being considered.
China reduced its tariff on donkey skins in late 2017 from 5 percent to 2 percent, making it even easier, and more lucrative, for ejiao manufacturers to get what they need, and placing the future of donkeys around the world in peril [3].
In response, donkeys around the world are now being kidnapped or stolen, and skinned alive to fuel this industry. In Africa, where donkeys are used for transportation, and religious custom often forbids eating donkey meat, donkey thievery is especially damaging both to health and culture.
"From Tanzania to Peru, South Africa to Pakistan, donkeys across the world are being stolen and skinned in the night, their carcasses found by distraught owners and their skins imported into China," said Alex Mayers, the Donkey Sanctuary's head of programs [4].
Traders can sell a donkey hide for as much as 3,000 yuan (USD $460) today, whereas the same skin would have sold for a fifteenth of that price in 2000 [5].
"For millions of people in some of the world's poorest communities, donkeys are still the main means of livelihood and sustain families by providing them with an income and independence," Mayers said [4]. "This latest news from China is sadly a backwards step for donkeys and for communities that rely on them."
Uganda, Tanzania, Botswana, Niger, Burkina Faso, Mali, and Senegal have banned the export of donkey skin and meat products to China [3]. A growing number of individuals are standing up against those exports, too.
Sign this petition to join us in telling China to stop!
MORE ON THIS ISSUE
[1] Horsetalk (2018, January 4), "Trade in donkey skins continues apace, as China lowers tariff." Retrieved January 16, 2018, from https://www.horsetalk.co.nz/2018/01/04/chinese-trade-donkey-skins-apace-tariff/#v5EAbQ5qR0LmWiSq.99
[2] The Donkey Sanctuary (2018), "What is ejiao?" Retrieved January 16, 2018, from https://www.thedonkeysanctuary.org.uk/under-the-skin/what-is-ejiao
[3] BBC (2017, December 31), "China reduces tax on donkey skins despite population fears." Retrieved January 16, 2018, from http://www.bbc.com/news/world-asia-china-42527299
[4] The Donkey Sanctuary (2018, January 2), "Charity disappointed by 'backwards step' for donkeys." Retrieved January 16, 2016, from https://www.thedonkeysanctuary.org.uk/press-release/china-takes-backwards-step
[5] Stephen Chen (2017, December 31), "China cuts import taxes on donkey hide as appetite for skin and meat soars." Retrieved January 16, 2016, from http://www.scmp.com/news/china/society/article/2126310/china-cuts-import-taxes-donkey-hide-appetite-skin-and-meat-soars
To Top
The Petition:
To the Chinese State Council,
Too many donkeys have been killed for the sake of ancient medicine, and the slaughter must stop today.
Donkeys around the world being stolen, skinned, and sent to China for a few thousand yuan. This black market trade fuels the ejiao industry, which your country has done little to condemn. The 3 percent tariff reduction on donkey skins has only served to increase the number of donkeys condemned to death.
More than 8 percent of the world's donkeys have been killed since 2016, while China's donkey population is dwindling even faster.
If nothing is done to curb the needless slaughter of these animals, we will Inevitably lose the species to extinction.
The ejiao industry is the source of an untold amount of suffering and destruction. Especially in an age when modern medical research can easily produce analogous remedies that work better than gelatinized donkey skins, there is no need to subsidize such cruelty with tax breaks.
I demand you enact stronger considerations for animal welfare in your country today, ban the import of donkey skins, and save this species for the future of the planet.
Sincerely,