Tell Montreal To Repeal Its Law Banning Pit Bull Breeds
28,847 signatures toward our 50,000 Goal
Sponsor: The Animal Rescue Site
Montreal's new law banning any breed related to pit bulls is sentencing dogs in shelters and in homes to euthanasia.
---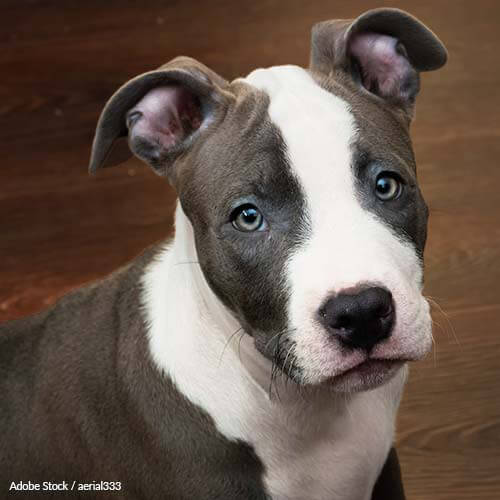 In October, 2016, Montreal passed a law banning "pit bull" breeds, including Staffordshire bull terriers, American pit bull terriers, American Staffordshire terriers, and any mix with these breeds. This new law is intended to reduce the number of animal attacks in the city from these supposedly dangerous breeds.
A similar ban was enacted in Toronto in 2005, which reduced the number of pit bull breeds in the city from 1,411 in 2005 to 338 in 2014. Despite this, dog attacks in Toronto are at their highest level this century, according to Canada's Global News. Clear evidence in the Toronto case proving the ineffectiveness of breed-specific bans did nothing to sway Montreal's decision to remove pit bulls from homes and shelters in the name of "safety."
The ban gives current pit bull owners a chance to pay for a background check and apply for a special license to keep their dog, but the dog must be muzzled when in public, and not allowed on a leash longer than 1.25 meters. These restrictions apply regardless of age or condition of the dog.
And those that can't afford the fees? Their dogs will be seized at the start of 2017 and euthanized under the new law. Any stray pit bulls will also be put down.
Shelters in Montreal are horrified. They receive around 700 "pit" breeds a year, and there are currently thousands waiting to be adopted. Under the new law, none of those dogs are eligible to be adopted or transported, leaving them trapped in shelters until they are euthanized or the ban is lifted.
The Montreal SPCA is set to stop all dog-control services in 2017 because of the ban, and other rescue services plan to follow suit, leaving even more animals at the mercy of Montreal's city councilors.
Recently, a Montreal judge put a halt on the law, preventing it from going into effect and allowing dogs to be adopted and saved!
Sadly, this is a HALT, not a reversal! The law is going to be reviewed, and potentially changed. However, the only sure way to save the lives of thousands of dogs is for the government to repeal the law officially.
THIS IS THE TIME TO ACT! Tell the city council, the mayor of Montreal, and the Premier of Quebec to repeal this terrible and deadly law for good!
To Top
The Petition:
To the Montreal City Council,
I am writing to express my horror and disgust over the recent city-wide ban on pit bull breeds. Despite mountains of evidence showing the futility of the ban, you sentenced thousands of innocent dogs to death because of their breed or because they look a certain way.
While Mayor Coderre may say he wants Montrealers to "feel safe and that they are safe," this law is making families feel less safe by taking away their loved ones and breaking apart families over irrational and unfounded fear.
When Toronto enacted a similar ban on pit bull breeds in 2005, the number of "dangerous" dogs dropped significantly, yet, according to Global News, dog bites are now at the highest they have been this century. The American Veterinary Medical Foundation's studies of pit bull bans in the United States have shown a decrease in dog attacks from pit bulls, but not a significantly lower number of attacks overall. It is clear that these bans have failed to make people "safer."
Because of this law, thousands of animals are facing death. They have no recourse, no second chance, and no hope.
The only option is to repeal this draconian law built on misinformation and fear. Sacrificing thousands of innocent dogs will not make Montreal any safer. Don't allow more innocent lives to be lost!
Thank you,